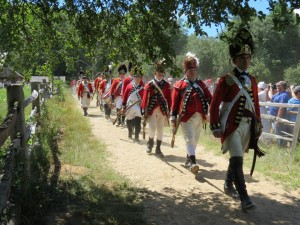 Hello & welcome to the new internet encampment of…
The Royal Welch Fusiliers in America
Commemorating the service of the 23rd Regiment of Foot during the American Revolution. Fighting in nearly every major campaign (except Burgoyne's), from Lexington and Concord in 1775, through Yorktown in 1781, the 23rd Foot was one of the premier regiments of the Crown Forces in North America. Members are located in New York, New Jersey, Connecticut, Massachusetts, Maryland, Virginia, North Carolina, South Carolina, Georgia, Florida, Michigan, Indiana, Ohio, Pennsylvania, New Hampshire, and California.
——————- What's New In Camp ——————–
Important Announcement from Headquarters.
The October – November edition of the Fusilier has been posted.
 The photos and videos section has been updated to include, pictures from The Rebels & Redcoats  event in Arizona and Hope Lodge in Pennsylvania.
There has also been  a page added called "The Kitchen", where news from the regimental kitchen will be posted. It appears as part of the "My Brave Fusiliers" section, on the company's menu, right under the "HQ".
The reenlistment papers (which apparently disappeared from the site for some un-explained reason), have now been restored. If you have any difficulty downloading them, please, let me know in the comments section.
And last, but not least, some of the page header pictures have changed.
———- Not So New But Still Noteworthy ———-
Be sure to checkout the video of the RWFiA in action at Fort Ticonderoga!!!
Located on the "I Want To Be A Fusilier" Page and, our "Photo & Video Gallery" Page.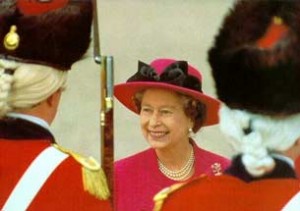 "On Parade" Wales, 1989 with Colonel in Chief
Queen Elizabeth II for the 300th Birthday of the Regiment
Photo: Diane Ford   @ 1989