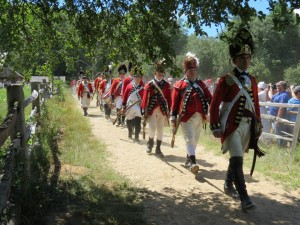 Hello & welcome to the new internet encampment of…
The Royal Welch Fusiliers in America
Commemorating the service of the 23rd Regiment of Foot during the American Revolution. Fighting in nearly every major campaign (except Burgoyne's), from Lexington and Concord in 1775, through Yorktown in 1781, the 23rd Foot was one of the premier regiments of the Crown Forces in North America. Members are located in New York, New Jersey, Connecticut, Massachusetts, Maryland, Virginia, North Carolina, South Carolina, Georgia, Florida, Michigan, Indiana, Ohio, Pennsylvania, New Hampshire, and California.
 The 23rd Regiment of Foot, Royal Welch Fusiliers in America is actively seeking recruits. Please go to our "I Want to be a Fusilier" Page for more information on how you could become part of one of the premier British revolutionary war reenacting regiments!
——————- What's New In Camp ——————–
To access ST. David's Day info and the reservation form, click the dispatch below!!!
Save the date – 4 March 2017 – SAINT DAVID'S DAY DINNER at the OLD BARRACKS MUSEUM, Trenton, New Jersey

http://www.barracks.org/
Organizers: Keith Spaar

kspaar@amscam.com

and Eric Spaar

eric.spaar@gmail.com
———- Not So New But Still Noteworthy ———-
Now posted on the Headquarters Page: A Regimental Announcement and two Regimental Orders for your review!!!
The January edition of the "Fusilier" is now available!!!

The new edition of "The Flash" is available on the Colonel's Company page!!!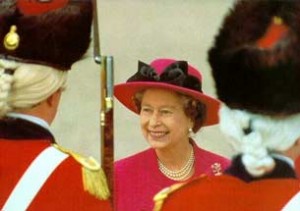 "On Parade" Wales, 1989 with Colonel in Chief
Queen Elizabeth II for the 300th Birthday of the Regiment
Photo: Diane Ford   @ 1989